ALL CONTENT IS PROVIDED STRICTLY FOR ENTERTAINMENT PURPOSES. UNCLE Z AND MYSELF MAKE NO REPRESENTATIONS OR WARRANTIES OF ANY KIND AS TO THE CONTENT, INCLUDING, BUT NOT LIMITED TO, IMPLIED USE OF AAS/PEDS, MEDICAL ISSUES OF ATHLETS, MEDICAL ADVICE. BY USING ANY CONTENT IN ANY WAY, WHETHER OR NOT AUTHORIZED, THE USER ASSUMES ALL RISK AND HEREBY RELEASES UNCLE Z AND MYSELF FROM ANY AND ALL LIABILITY ASSOCIATED WITH THE CONTENT.
A quick introduction for those that do not know me. I am
Push50
!!!
I am 56 y/o at 5'6" and weigh in at 170 lbs. Current bf is appx. 10%-12%
I have been lifting for the better part of 13+ years... The first 2-3 years was strictly novice not knowing a damn thing type of lifing and a lot of research. I run a clean diet most of the time and even in the times that my diet is not as clean; I still strive to eat healthy and make wise choices.
At the age of 48, I entered my first amateur bodybuilding competition and have competed in two others since then. This was a bucket list item and I have not decided if I will compete again, however, I still run a cycle or two a year and maintain a healthy lifestyle so that if I decide to I am ready.
This cycle I will be looking to gain weight and maintain as low of a body fat as possible. I do not Want to go over 16-18%. Meals will be tailored to meet the needs of my macros.
MACROS= Carbs, Proteins and Fats
Target Macros:
Carbs 50%
Protein 35%
Fats 15%
I will be targeting 3500 -4000 calories
Carbs =1750 - 2000 calories @ 4 calories per gram = 437 - 500 gm/day
Proteins = 1225 - 1400 calories @ 4 calories per gram = 306 - 350 gm/day
Fats = 525 - 600 calories @9 calories per gram = 58 - 67 gm/day
Current BMR: 1544 calories/day
Current RDI: 3725 calories to gain 2 lbs./wk.
Current Body Fat is around 12-14%.
Gear:
ALL GEAR is EP products from UNCLE Z!!
Bulk Cycle 50 -100 mg/day
Proviron 25-50 mg/day
Test E 250 – 500/wk.
Mast 200 – 400/wk.
Deca 250-500/wk.
GHRP6 –150 mcg @ 2x's/day
Impamorelin – 150 mcg @ 2 x's/day
CJC1296 – 150 mcg @ 2x's/day
Arimidex, Prami, Clomid, tamoxifen on hand if needed.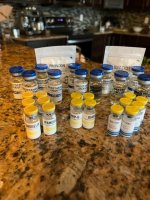 Typical Meals:

Meal 1 - Preworkout
1.5 cups egg whites
1 tomato
1 jalapeno
¼ cup cream of Rice
Meal 2 – Post workout
¼ cup Cream of rice
2 scoops Dextrose
2 scoops maltodextrin
25gm Protein powder
Meal 3
7 oz. chicken Breast
1-1.5 cups rice
Meal 4
¼ - ½ cup Cream of rice
2 scoops Dextrose
2 scoops maltodextrin
25gm Protein powder
Meal 5
7 oz. Ground Beef 90/10
1-1.5 cups rice/potatoes
Meal 6
Mostly determined by my wife. She is very conscientious of what I do and considers my diet during meal prep for dinner.
Exp:
6 oz Sirloin
2 cups boiled potatoes
2 Cups Salad w/0 Calorie Dressing
Or other vegetable
Work out- Typical:

Monday

Shoulders, Biceps, Forearms, Abs. & Oblique's

Shoulders:
Superman
Arnold Press

Military Press
Front
Back

Front raises
Side Raises
Lat Pushdowns
Seated Lat raises
Biceps:
Preacher Curls
Hammer Curls
1 Arm Curls Front
Reverse Pulldowns w/(Negatives)
Incline Curls
Concentration Curls
Reverse EZ Bar Curls
Wrist Curls
Wrist Extensions
Wrist Rotations
Abs/Oblique's:
Cable Crunch
Half Ball Crunch
Rocky 4's
Leg Lifts
Oblique Crunch
Scissors
Side Plank w/Hip Flex
Wood Choppers
Tuesday

Chest, Triceps, Abs. & Oblique's

Chest
:
Bench Press
Flies
High Cables
Cable Cross-Overs
Triceps:
Overhead Extensions
Skull Crushers
Rope Pulldowns
Tricep Push Downs
Closed Bench
Reverse Preacher Curl
Reverse E-Z Bar w/(Negatives)
Abs/Oblique's:
Cable Crunch
Half Ball Crunch
Rocky 4's
Leg Lifts
Oblique Crunch
Scissors
Side Plank w/Hip Flex
Wood Choppers
Wednesday

Shoulders, Biceps, Forearms, Abs. & Oblique's

Shoulders:
Superman
Arnold Press

Military Press
Front
Back

Front raises
Side Raises
Lat Pushdowns
Seated Lat raises
Biceps:
Preacher Curls
Hammer Curls
1 Arm Curls Front
Reverse Pulldowns w/(Negatives)
Incline Curls
Concentration Curls
Reverse EZ Bar Curls
Wrist Curls
Wrist Extensions
Wrist Rotations
Abs/Oblique's:
Cable Crunch
Half Ball Crunch
Rocky 4's
Leg Lifts
Oblique Crunch
Scissors
Side Plank w/Hip Flex
Wood Choppers
Thursday

Chest, Triceps, Abs. & Oblique's

Chest
:
Bench Press
Flies
High Cables
Cable Cross-Overs
Triceps:
Overhead Extensions
Skull Crushers
Rope Pulldowns
Tricep Push Downs
Closed Bench
Reverse Preacher Curl
Reverse E-Z Bar w/(Negatives)
Abs/Oblique's:
Cable Crunch
Half Ball Crunch
Rocky 4's
Leg Lifts
Oblique Crunch
Scissors
Side Plank w/Hip Flex
Wood Choppers
Friday

Legs, Calves, Butt
Squats
Front Squats
Hack Squats
Extensions
Standing Curls
Lying Curls
Walking Lunges
Straight Leg Deads
Donkey Kicks
Step-Ups
Cable Hip (Ad/Abductions)
Saturday

Upper Back, Lower Back, Traps

Upper Back
Pull Ups
Wide Grip Pull Downs
Bent over Barbell Row
T-Bar Row
Closed Grip Pull Downs
Dumbbell Pullovers
Lower Back:
Reverse Grip Lat Pull downs
Closed Grip Rows
Dead Lifts
Good Mornings
Traps:
Shrugs (Barbell, Dumbbell)
Reverse Shrugs (Barbell, Dumbbell)
High Row
Sunday
Yoga, Massage, Stretching