OSGEAR SITEWIDE SALE
Dear friends, we love to offer! This is why we're running the best promos in the industry! Save money and get more -
35% DISCOUNT SITEWIDE + BUY 3 GET 1 FREE for selected brands!

PROMO CODE: OFF35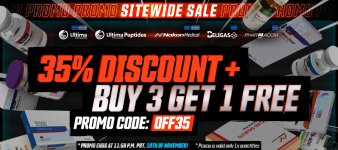 ULTIMA PHARMACEUTICALS
ULTIMA PEPTIDES
NAKON MEDICAL
BELIGAS
PHARMACOM LABS
The promo code - OFF35 - is not applying if your order products from the bulk category (5x, 10x) so please make sure that you order 1x quantities.
As the promo says, BUY 3 GET 1 FREE, you'll have to buy 3x packs from a product and the 4th pack is automatically added. The promo is not applying if you order different products.
Promo ends at 11:59 P.M. PST, 18th of November!
Respectfully,
OSGear Team