AUTUMN BOGO WEEK + FREE HGH
You are happy when you see the BOGO promo running - for
2 weeks
! Get even more - buy Ultima / Nakon products for $2000 and
get extra 200IU Ultima-HGH for FREE
!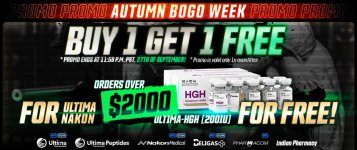 ULTIMA PHARMACEUTICALS
-
INT
/
US DOM
ULTIMA PEPTIDES
NAKON MEDICAL
-
INT
/
US DOM
BELIGAS
-
INT
/
US DOM
PHARMACOM LABS
INDIAN PHARMACY
*valid only for International Warehouses 1 and 3 and USA Warehouses 2 and 5.
**promo code not needed

In order to get the free products, access the link above, choose the products and add them to your cart 1x quantities (do not order from bulk section 5x, 10x because the promo won't apply), then proceed to checkout. The same products and quantities you order are added as free items under your order automatically.
Promo ends at 11:59 P.M. PST, 27th of September!
Respectfully,
OSGear Team