Trenbolone Hexahydrobenzylcarbonate presents the dominant large ester based Trenbolone compound on the market. It was first released by the France based Negma Laboratories in the late 1960's under the trade name Parabolan. It was also prescribed to treat osteoporosis in some cases, as well as in the treatment of cachexia. However, in 1997 Negma would pull Parabolan from the market.
Parabolan is very similar to the more popular Trenbolone Acetate and of course we also have Tren E now. The only difference is the ester attached, as Parabolan will provide a much slower release of Trenbolone requiring fewer injections. The functional traits and characteristics of the Trenbolone hormone do not change based on the attached ester.
It is a structurally altered form of Nandrolone, which is mostly associated with Deca Durabolin (Nandrolone Decanoate). The tren hormone has an added double bond at carbon positions 9 and 11 which increases the binding affinity and inhibits aromatizing.
Trenbolone carries an anabolic rating of 500 as well as an androgenic rating of 500. All steroids carry a rating measured against the rating of testosterone, which carries a rating of 100/100.
Parabolan carries with some very common traits when it comes to anabolic power. Many of which are shared by steroids. Tren however, carries them to a higher level of power.
It enhances protein synthesis and nitrogen retention in the muscles better than almost all other steroids.
Parabolan greatly increase red blood cell count and IGF-1 output.
It is one of the best inhibitors of glucocorticoid hormones or stress hormones like cortisol.
Most notably is its ability to remarkably increase feed efficiency or nutrient efficiency.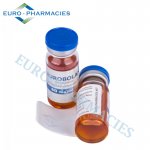 Eurobolan - 80mg/ml 10ml/vial - Euro-Pharmacies

100% GUARANTEE And STRICT QUALITY CONTROL PROCCESS.
Supplier:Euro-Pharmacies
Chemical Name:Trenbolone hexahydrobenzylcarbonate
Comes In: 10ml vial - 80mg/ml
Dosage: 200-400mg/week
Active time: 2-3 days
Class
HT anabolic steroid